Image View is useful tool for spatial visualization of sensors on top of an uploaded image that provide real time readings as they are received.
Adding an Image View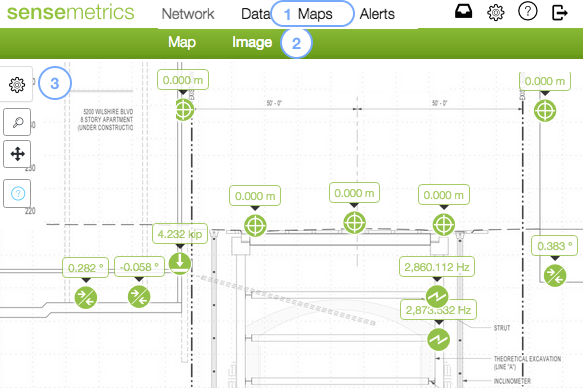 1. Click on the View module
2. Click Image to navigate to the Image View module
3. Click the

use the slide out tab to add a profile to Image View. You will be prompted to create a profile name and upload an image. Maximum file size is 12MB. We support the following file formats: jpg, jpeg, png, bmp, gif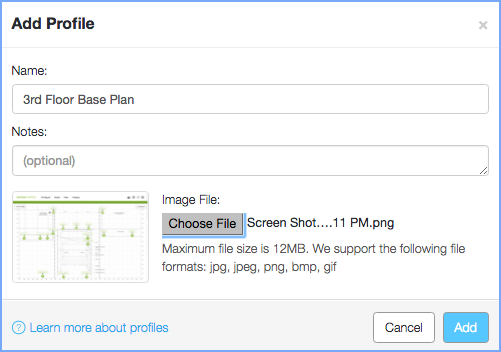 Once created, you will be ready to overlay sensors upon your image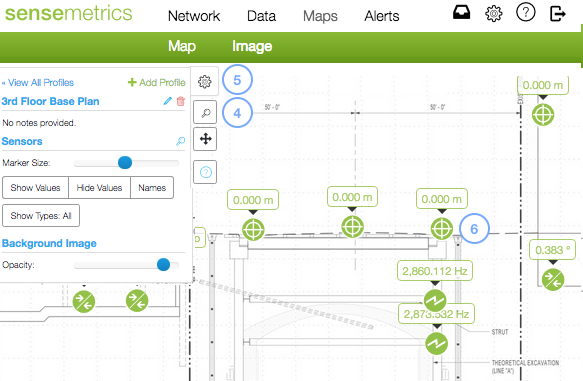 Customizing Image View
1. Click on the

button to open the Sensor Selection tool. Once added, the user can move the sensor anywhere on the page to represent where it is.
2. Click the gear icon to open sensor settings that will be applied to all sensors in your image view.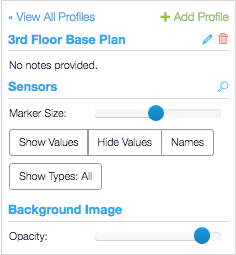 : Click the magnifying glass icon to open the Sensor Selection Tool and add/remove sensors from the current profile
Marker Size: Adjust the size of the sensor icons
Show Values / Hide Values: Toggling this option will show the latest reading for each sensor above it's Icon
Names: Toggling this button will add each sensor's Name below it's icon
Show Types: Select this to open the Sensor Visibility Tool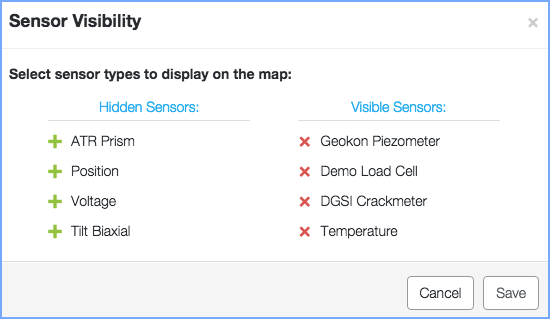 This tool allows you to choose which types of sensors are currently shown on the map by metric type. Move sensors to the visible side to allow them to be viewed and move sensors to the hidden side to temporarily hide them.
Opacity: Adjusts the opacity of the sensor icons.

: Pressing this option will align the icons
3. Sensor Tool Tips: Hover over any of the sensor icons to open individual sensor tool tips. Here, you will find specific sensor settings related to the one selected. You are able to change the metric type displayed and subsequently metric related settings. Click the icon to lock the tooltip open.