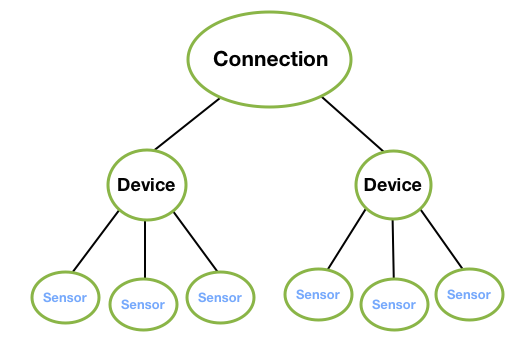 Sensors will be automatically added to the Sensor Configuration tab once a Device has been added. Some sensors will need additional configuration.
Many Sensors have specific parameters that must be addressed, you can view more detailed information about these fields on that sensor's sensor-specific article.
Sensor Parameters
Click directly on a Sensor to navigate to the Modify Sensor page. Here, you can customize sensor settings to best fit your needs. Below are listed some common configuration settings and their meanings. For a more in-depth description of sensor configuration settings included on your specific sensor, you can view that sensor's specific article.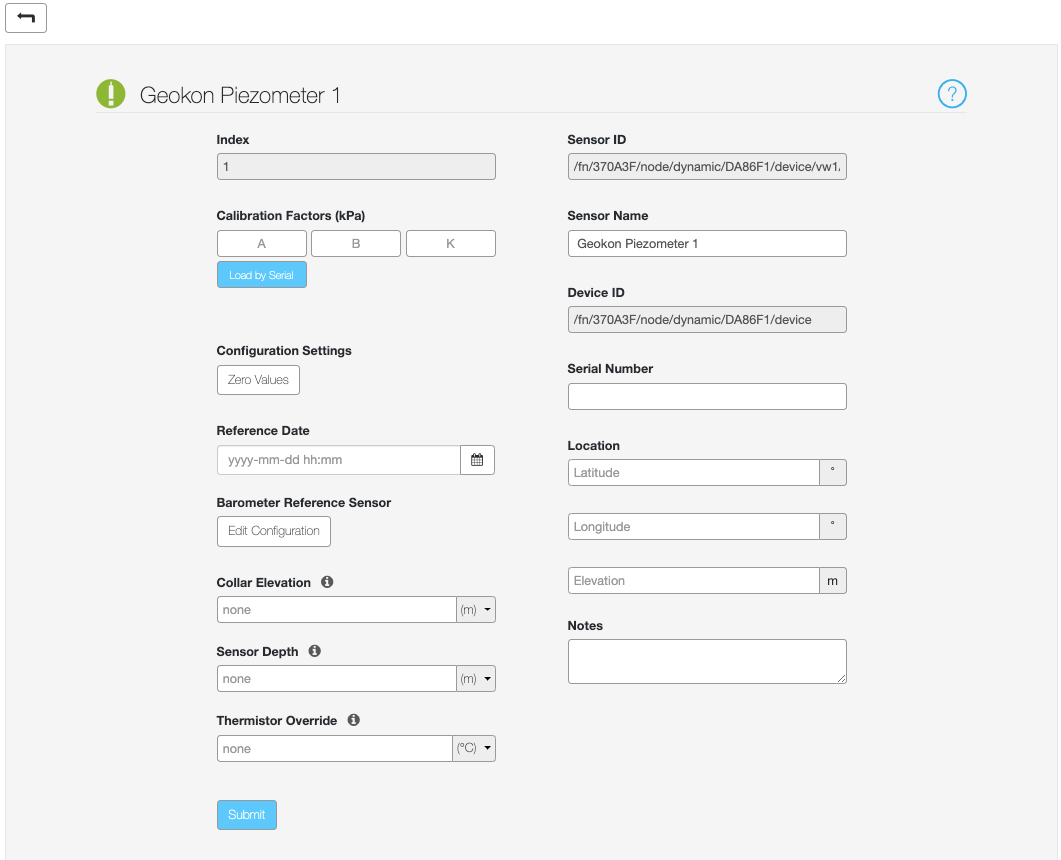 CALIBRATION FACTORS
Many sensors require Calibration factors that come from the manufacturer. These values are required to account for variance during manufacturing and are used make the calculations as accurate as possible. You can find these calibration factors on the sensor's data sheet. Some sensors allow the user to pull calibration factors of a sensor from a database by inputting a serial number in the Serial Number field and then clicking Load by Serial
ZERO VALUES
These values are initial values for the sensor that are used as a reference to help calculate more accurate readings.
REFERENCE DATE
The reference date will specify the first date used when calculating the amount of change a value undergoes within a certain time frame. A reference date will become available when a sensor uses delta calculations. This is most common with any type of Position or Tilt measurement.
THERMISTOR OVERRIDE
At times, a faulty Thermistor in a sensor can throw off calculated values. This option is included so that, even if the Thermistor fails in your sensor, you can still get useful readings by inputting an approximate temperature value manually.
Note: The readings will inherently become less accurate due to the fact that one temperature value is used for all new readings.
SENSOR ID
The system's ID for this Sensor.
SENSOR NAME
This editable field is how the sensor will be identified in the rest of the sensemetrics modules. This can be changed to whatever the user desires. Filtering can be applied using the name given.
DEVICE ID
The ID of the Device that the Sensor is associated with.
SERIAL NUMBER
You can input the Serial Number of your sensor in this field. This is for record keeping purposes as well as, in certain cases, automatically loading the calibration factors.
Note: Not all sensors have automatic calibration loading capability.
INDEX
Some sensors are connected to multiplexers that allow for multiple sensors to be connected to a single Device Port. This field indicates to which channel of the multiplexer the current sensor is connected.
LOCATION
Enter the coordinates of the Device to automatically place that Device in its correct location in Georeference Map profiles.
NOTES
A user can add anything to this field. These notes will be associated with the sensor which can then be used when filtering.
If any changes are made, click Submit to write the settings.