Overview
Data Alerts allow the user to define a threshold value rule for any sensor data that will trigger an alarm when the threshold(s) is met.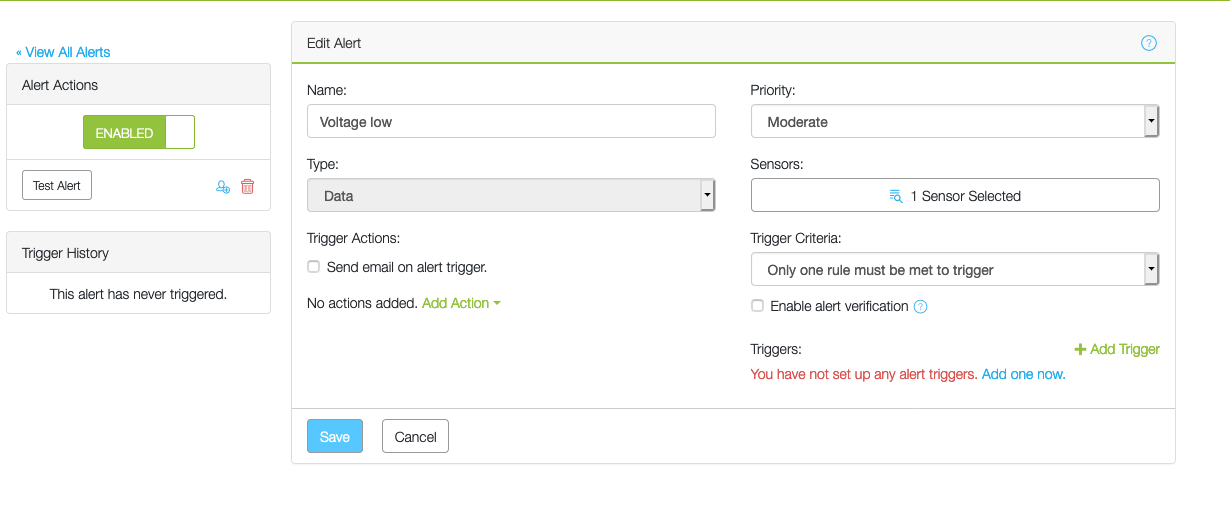 Adding a Data Alert
STEP 1: Add Alert
From the Alerts module, select the "Add Alert" button.
STEP 2: Select Data
Make sure "Data" is selected under Alert type
STEP 3: Select Sensors
Push the

button under Choose Sensors to view the sensor selection tool.
Note: A Data Alert can have multiple sensors set to trigger as long as they are measured in the same metric.
STEP 4: Add a Trigger
Select the

button to add a new rule. The User will then see the following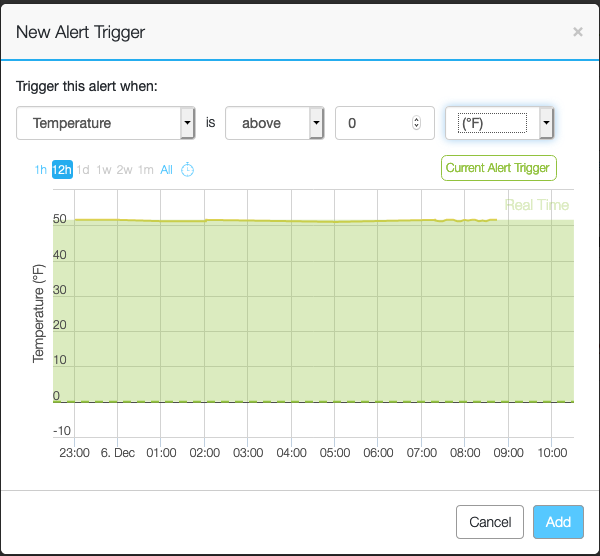 Different Calculations will have different options for creating rules. Select the settings desired to trigger the alert then press "Add",
STEP 5: Add Additional Triggers
Multiple rules can be added to any alert. If one of these rules is met, the alert will trigger. If the checkbox is checked, all rules must be met in order to trigger the alert
STEP 6: Choose a Name
Add an Alert Name that will be used identify the alert
Note: A name must be specified for the alert to be created.
STEP 7: Define Priority
An Alert can be set to Low, Normal, High, or Critical. This is a user-defined field to help categorize Alerts and notifications.
STEP 8: Alert ON/OFF
This button

will toggle the Alert On and Off

Note: An alert that is "disabled" will not trigger even if the threshold is met.
STEP 9: Add Recipients
Add additional users to be notified when the Alert is triggered. Users added here will receive the same notifications as the user who created the Alert
STEP 10: Add Actions
Alerts can perform actions when triggered. Click add action to see a drop down list of available actions for the sensors selected.