To start processing advanced Vibrating Wire Calculations, certain calibration factors will need to be entered depending on the type used. Without entering the following calibrations, you will be limited to frequency and temperature only within the data analytic modules.
Sensor Configuration
From the Connectivity module, click the arrow drop down on the Vibrating Wire sensors you wish to configure. Click on each of the vibrating wire sensors to open up its individual settings.

Depending on the Vibrating Wire, certain calibration factors will need to be entered. Your specific type of vibrating wire will automatically show fields that directly relate to fields on the sensor's calibration sheet. Enter the factors directly from the calibration sheet and press save. Below is an example of a Piezometer and the numbered fields that can be calibrated and changed. If all these fields are blank you will not be able to see any calculated readings.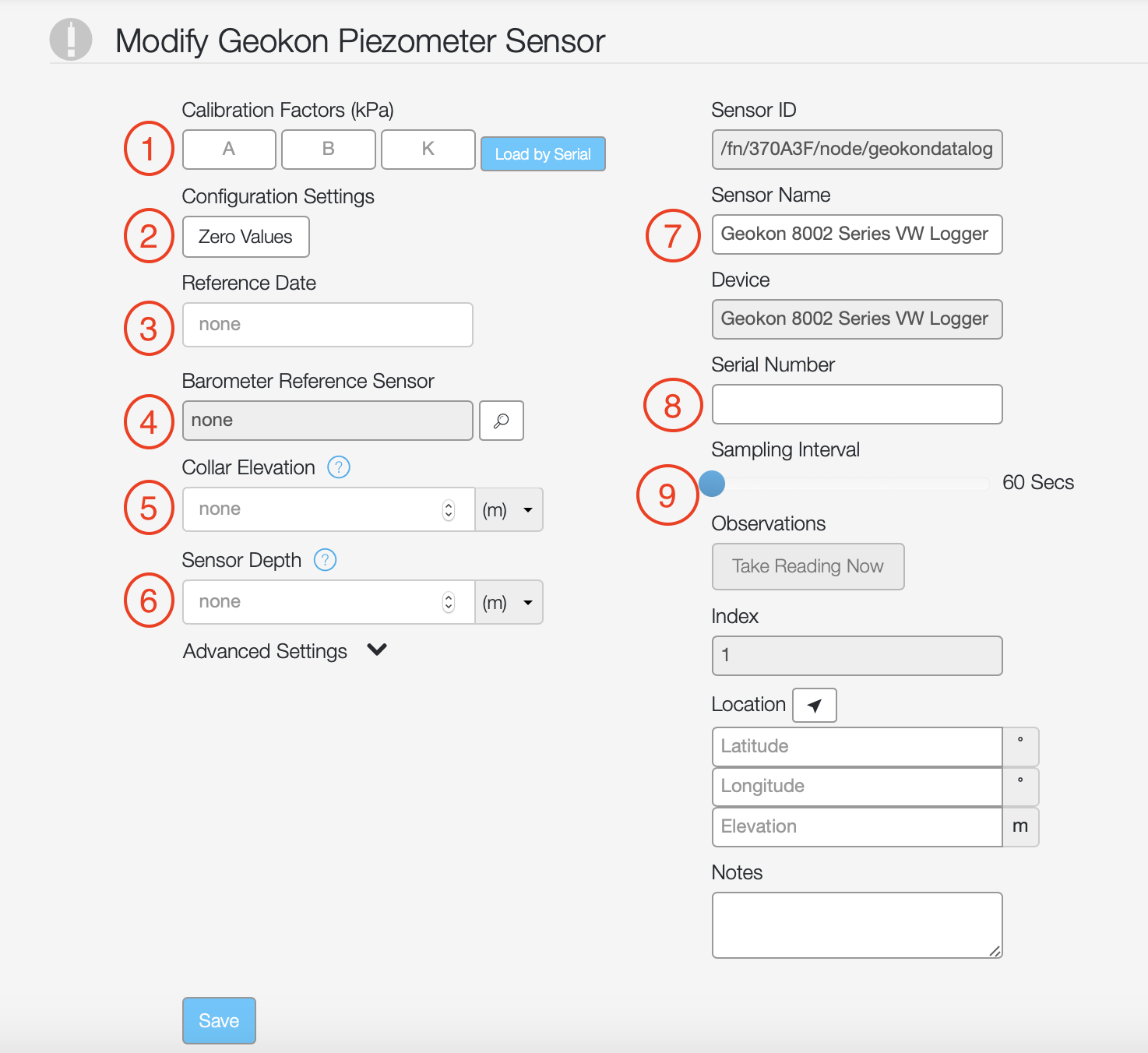 CALIBRATION FACTORS
Many sensors require Calibration factors that come from the manufacturer. These values are required to account for variance during manufacturing and are used make the calculations as accurate as possible. You can find these calibration factors on the sensor's data sheet. Some sensors allow the user to pull calibration factors of a sensor from a database by inputting a serial number in the Serial Number field and then clicking Load by Serial
ZERO VALUES
These values are initial values for the sensor that are used as a reference to help calculate more accurate readings.
REFERENCE DATA
The reference date will specify the first date used when calculating the amount of change a value undergoes within a certain time frame. A reference date will become available when a sensor uses delta calculations. This is most common with any type of Position or Tilt measurement.
THERMISTOR OVERRIDE
At times, a broken Thermistor in a sensor can throw off calculated values. This option is included so that, even if the Thermistor fails in your sensor, you can still get useful readings by inputting an approximate temperature value manually.
SENSOR NAME
This editable field is how the sensor will be identified in the rest of the sensemetrics modules. This can be changed to whatever the User desires. Filtering can be applied using the name given.
SERIAL NUMBER
You can input the Serial Number of your sensor in this field. This is for record keeping purposes as well as loading the calibration factors
SAMPLING INTERVAL
This adjustable control represents how often the sensor will read data. When graphing, data should be shown in intervals relative to this rate.
TAKE READING NOW
This button prompts the THREAD to request a reading from the sensor.
LOCATION
Enter the coordinates of the Device to automatically place that Device in its correct location in Maps.
If any changes are made, click save to write the settings.
See Sensor Configuration Overview for details on the other common sensor settings available.