Adding a Demo Device
Demo sensors are virtually created sensors that can emulate an actual sensemetric supported sensor by providing real time readings.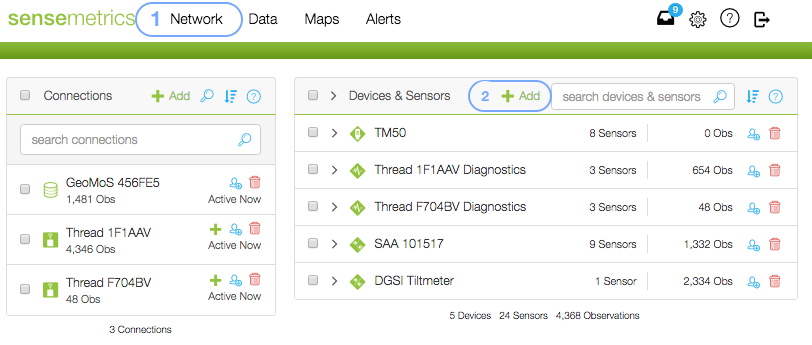 1. Navigate to Network
2. Select +Add from the Devices & Sensors Menu.
4. Select Demo from the drop down menu
5. Select the sensor type to emulate:
Load Cell
Position
Position (ENH)
Temperature
Tilt Biaxial
Vibrating Wire
6. Select the number of virtual demo sensors to create
7. Hit submit
Your Demo sensors have now been created and can be accessed by dropping down the sensors under the Demo Device.
From here, you can customize individual sensor settings such as sampling interval by clicking on each sensor and adjusting the settings.

An Observation is a data point collected. Each sensor will have the number of observations read from it displayed in the sensor configuration page. Increase the number of observations by increasing the sampling rate.