This article will cover the following topics regard the DGSI Mini-Logger
 Adding a DGSI Mini-Logger
Ensure that the THREAD is turned on and connected to the Mini-Logger via one of it's Device ports
1.  Navigate to the Network Module

2.  Press the

 button directly on a THREAD to add a Device to it. If your THREAD does not appear here, you may still need to Add Your THREAD as a Connection.
3.  You may also add a device from the

button in the Devices & Sensors Section 
4.  Begin by typing in "DGSI Mini-Logger" and select the name once it autocompletes in the search box
5.  Type in the Connect Code of the THREAD that the Device will be connected to. It will already be pre-filled if the

 button on the THREAD was used. 
6.  Next, select the THREAD communication port that the device is plugged into, Device 1 or 2.
7.  Press  

  to write the settings
sensemetrics will automatically detect the Mini-logger connected and will bring in serial number and model number.
Vibrating Wire Configuration
The Vibrating Wire Sensor on the Mini-logger will now need to be configured to the specific VW you are using. Click the "Edit Configuration" button under VW Mux Information.
If you have exited device configuration, click back into the DGSI Mini-logger by finding it in the Devices & Sensors list on the right hand side of Network. This will open the Device configuration settings.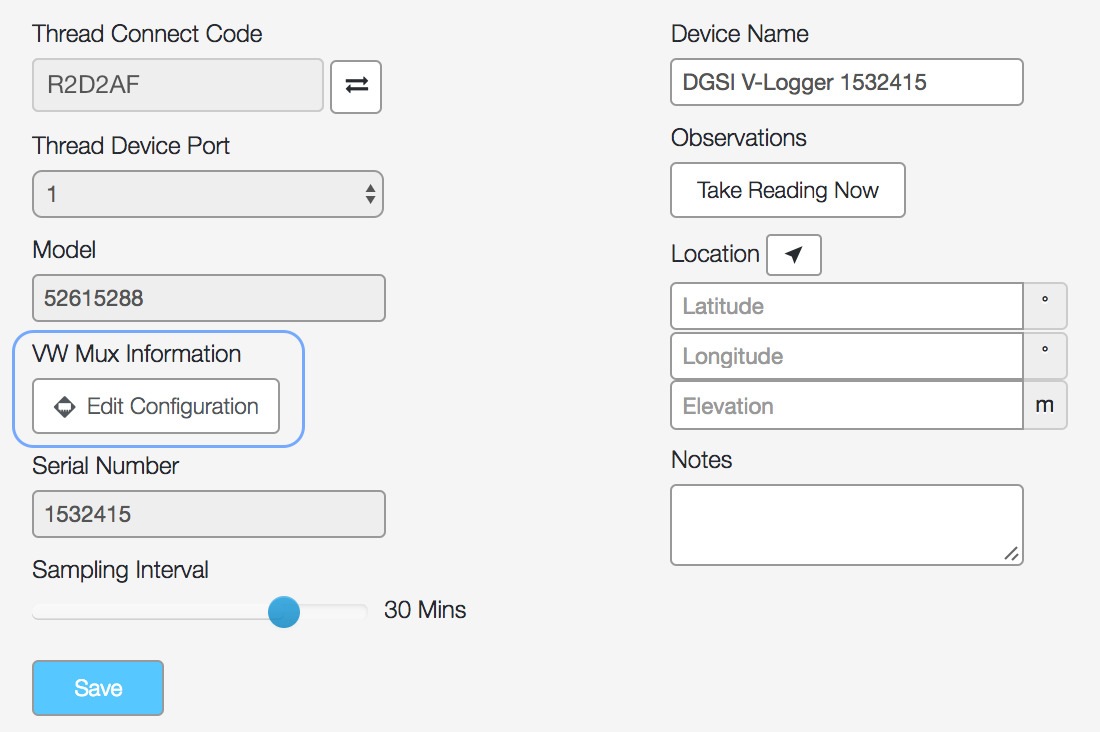 Select the type of vibrating wire that is on channel one and the suggested Frequency Sweep will be automatically filled in. 
Click Done when finished and make sure to click save to write the settings.
Once saved, the configured vibrating wire sensor will populate beneath the DGSI Mini-Logger Device and can be viewed by clicking the drop down arrow.
Additional calibration factors will need to be entered for some types of vibrating wires, see the Vibrating Wire article for details.